Air Center One Catering Service menus prepared by our specialist gourmet chef
Air Center One offers an exquisite In-flight Catering Services prepared by our specialist gourmet chef
Gourmet catering is an important part of our service. However each customer's tastes are different and so your catering order will be tailored to exactly meet your needs. You can select from a variety of breakfast items, appetizers, lunch and dinner selections, salads, dessert and other speciality items.
In order to provide you with the best of gourmet catering we require a minimum of 48 hrs notice for all your catering orders. Surcharges apply for short notice catering orders.
Regardless of whether you require 5 star dining experience or simple cafe style catering we can cater to your individual tastes.
The following are a selection of dinner menus prepared by our specialist gourmet chef using fresh local ingredients delivered to your aircraft and packaged for ease of preparation and presentation from aircraft galleys.
Air Center One Catering Service menus prepared by our specialist gourmet chef
Seafood
Prawn + coriander dumplings
Hot smoked salmon blini/tart with wasabi cream cheese
Snapper cerviche spoons
Tuna tartare spoons/boats
Sesame tuna + wasabi cream crispy wonton
Fresh Vietnamese spring rolls with prawns
Terakihi Kokoda spoons/boats
Seared sesame tuna with aioli on cucumber
Smoked salmon tartlet with avocado and salsa verde
Prawn + avo salsa tarts
Krispy prawns w kimchi aioli
Crab cakes w peri peri
Vege
Mini corn fritters with guacamole and sour cream
Caprese skewers with balsamic reduction
Wild mushroom and blue cheese crostini
Tequila gazpacho with halloumi and olive and cornichon chaser
Roast beetroot, goats cheese and mint tarts
Meat
3 cheese arancini with roasted pepper pesto
Lemongrass prawn cakes with sweet chilli sauce
Pork, date, feta and pistachio sausage rolls with spiced relish
Mini beef and red wine pies with kumara mash
Moroccan lamb koftas with garlic yoghurt
Rare fillet beef tartlet with salsa verde
Medjool dates stuffed with blue cheese and wrapped in bacon
Thai chicken balls
Club sammies
Egg, rocket and beetroot
Fillet beef, horseradish and rocket
Ham, cheese and Dijon
Pastrami, avocado and jalapeno relish
Chicken date and almond
Salmon, avo and dill mayonnaise
Sliders
Pulled pork and zesty slaw + chipotle aioli
Panko snapper and jalapeno tartare w micros
Rare fillet beef with horseradish cream and rocket
Angus beef pattie with cheddar, pickle and tomato relish + aioli
Crispy spiced chicken, green slaw + lime aioli
Salad boxes
Tuna nicoise w wasabi aioli
Mini salmon or tuna poke bowl
Chicken/vege/prawn Vietnamese slaw
Fillet beef w roasted veg + grilled halloumi
Smoked salmon, feta and quinoa salad
Starters/Canapés:
Sticky Prawn skewers
Thai Chicken balls
Pear, blue cheese in prosciutto
Fresh snapper ceviche
Caprese skewers
Sides/Salads:
Steamed kafir and coconut rice
Creamy Kumara mash
Hand cut fries
Seasonal vegetables
Vietnamese chicken/Prawn salad
Thai beef salad
Caprese salad
Greek salad
Chicken Caesar salad
Crunchy beetroot, veg and nut slaw
Mains:
Thai green curry- Chicken, beef, lamb or prawn
Lamb Korma
Fillet of beef w Green peppercorn sauce or Red wine jus or Bacon, blue cheese and mushroom
Pistachio crusted Lamb rack w minted salsa verde or red wine jus
Fresh crumbed snapper fillet w jalapeno tartare or lemon and caper sauce
chicken breast in white wine sauce or fresh tomato and red pepper salsa
Seared tuna w sesame wasabi mayo
Fillet of salmon w zingy salsa verde
Cheeseboard: The best selection of NZ cheeses with the finest accompaniments, grapes, quince and crackers
Fresh Fruit Platter
Desserts: Mini pavlova with fresh berries and cream
Baked chocolate fudge brownie w brown sugar cream and berry coulis
Mini lemon meringue pie
Selection of tarts and cheesecakes
We can cater to any specifications and include Gluten free and vegetarian options.
We only use premium products and organic free range produce wherever possible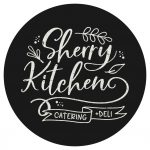 Catering and Menus supplied by Sherry Kitchen Catering.
Visit their website for more information:
https://sherrykitchen.co.nz/